The ability to alter an individual's mood for the better through music has been my life's goal. The process of uplifting, heightening the awareness of or bringing a greater spirit or positiveness to another human being is the goal of the musician. Music has has a grace and an innate understanding within that life can be better, happier and people can be reminded of the good things that are within them and that of those around them as well. Just look at the way people cheer during a concert or musical performance – there's an intangible connection between performer and listener that goes far beyond what we observe in this world. The connection is internal/spiritual rather than that of the physical world; how do you actually touch music (this is not a zen koan…). Anyway, I find it magical to enable another person to shift their perspective or improve the way they feel about life through listening to a piece of music I've written or created.
I feel grateful and fortunate that I made my musical pilgrimage to Boston in the 1980's and had the opportunities to have studied at Berklee College of Music (later taught there) and finally The New England Conservatory of Music. I consider the music on this page to be an absolute outgrowth of those experiences. Enjoy…
Contemporary Classical Composition
I became immersed with classical music during my graduate studies at NEC in Boston while I was a jazz studies major. I found a deep love and admiration for Beethoven, Debussey, Ravel, Stravinsky, and Ives among many others. These influences seeped into my composing producing…
1. Kaleidoscope: Written and orchestrated for violin and marimba when I was a graduate student at NEC. Having the opportunity to write for a vast array of fine student musicians is always one of the great perks of being a composition major at a conservatory or music college. I was always one to take advantage of this type of situation, having my pieces played in recitals, etc. I was studying classical composition with William Thomas McKinley while at NEC. He really assisted in broadening my listening and compositional perspectives. The end of this piece (which is excerpted here) was an experiment in juxtaposing very different rhythmic ideas in a very worked out/mathematical manner.
Color Abstraction
(David Joel)
2. Color Abstraction: The third of three pieces I wrote as a suite for violin and marimba. I wrote this one in a flourish of a couple of hours one afternoon. It communicates a crisp, quick and direct set of ideas.
3. November: Probably the first piece of solo piano music which I wrote and felt to be fully complete and one of my favorite original pieces. I really enjoyed its creation; it has a sense of reaching for something inherent in it and yet finality as well. While studying with Mick Goodrick at NEC I played him this piece. He said "I'd like to hear what you're writing ten years from now." I was coming to the end of my formal music studies at NEC and this was one of the final pieces I composed at that time.
4. July: The combination of guitar and piano as a chamber duo is a relatively unexplored entity. I wrote this piece as well as "November" and some others as a collection of explorations into composition for guitar and piano. I think their compositional value as a duo is quite incredible and beautiful – so many textures and possibilities available. I plan on finishing this suite of pieces shortly.
Woodwind Quintet No. 1
(David Joel)
5. Woodwind Quintet No.1, 1st Movement: Classical music affords such a wide array of possibilities for self expression. I always have enjoyed the intimacy of chamber ensembles and am thrilled to have had the opportunity to have my pieces played. My favorite section of this piece is excerpted here – again as in "Kaleidoscope," I juxtapose two very distinct and different rhythmic ideas.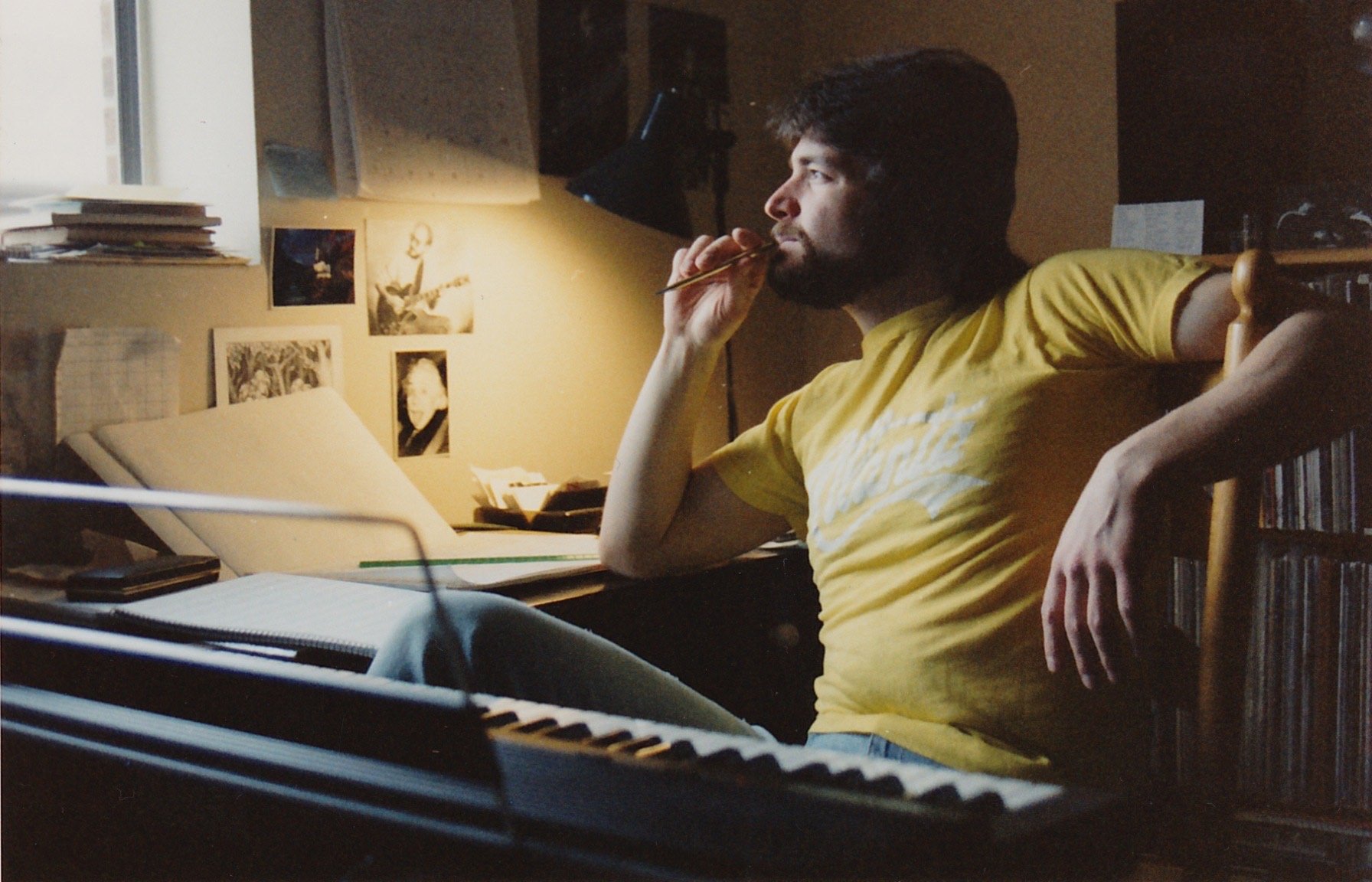 Large Jazz Ensemble Compositions
The following pieces were composed and orchestrated during my tenure in Boston in the 1980's. My creative interest was peaked by listening to: Duke Ellington, Miles, Coltrane, Gary Burton, Woody Herman, Jim Hall, Eric Dolphy, Bill Evans and Pat Martino, to mention only a very few. The ideas of these brilliant men had a profound impact on my musical perspective and ability to write and play. I love writing, especially for larger ensembles and it's always a fantastic experience to perform pieces I've written with groups of these sizes. These were recorded during various recitals as a student at Berklee and NEC.
1. Blue Dude: A big band composition dedicated to some old friends with the melody to the "A" section written unintentionally using the Whole-Tone Scale. It's interesting to compose something and then go back and see if there's anything worth analyzing. I tend to write from feel and what I hear, then review it technically; It's not my standard operating basis to intellectualize the compositional process initially.
Bischvil Ha Safta
(David Joel)
2. Bischvil Ha Saftah Sheli (For The Sake Of My Grandmother): Another big band piece. I dedicated this with a Hebrew name to my mother's mother, Yetta, which whom I was very close throughout my life. The basic form of the composition was only 12 bars, but as the piece grew and progressed, it became an extended composition with longer sections and extensions, especially at the coda.
Sometime In Autumn '85
(David Joel)
3. Sometime In Autumn '85: Written while I was a student at Berklee College of Music. An early composition which I still really enjoy. I began to write more lucidly by this time and find that some of my early writing (such as this) had merit to it. There are some interesting rhythmic excursions throughout the melody and harmony. It feels as though there are meter changes when there aren't – that's one of its interesting qualities. Performed at "The Berklee Performance Center" with an all faculty horn section (sextet).
Turning Point (Of Peace)
(David Joel)
4. Turning Point (Of Peace): One of the oldest compositions which I wrote and still employ on gigs. It was a tune written for an advanced harmony class I took at Berklee with a great musician named Matt Marvuglio. I remember He wrote "Excellento!" at the bottom of the page when I received it back. That kind of feedback from a teacher you respect always stays with you! Performed at "The Berklee Performance Center" with an all faculty horn section (ten piece ensemble).