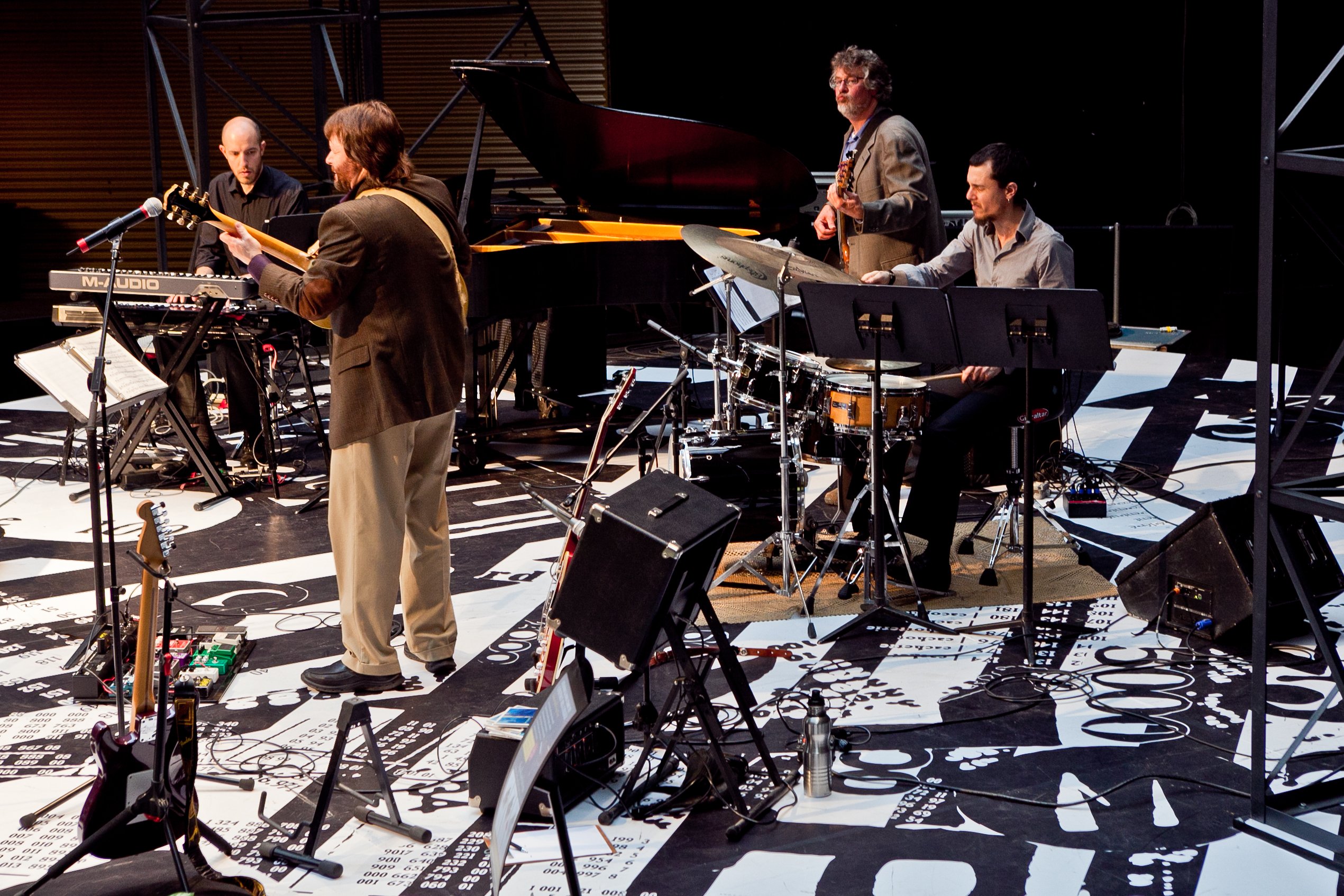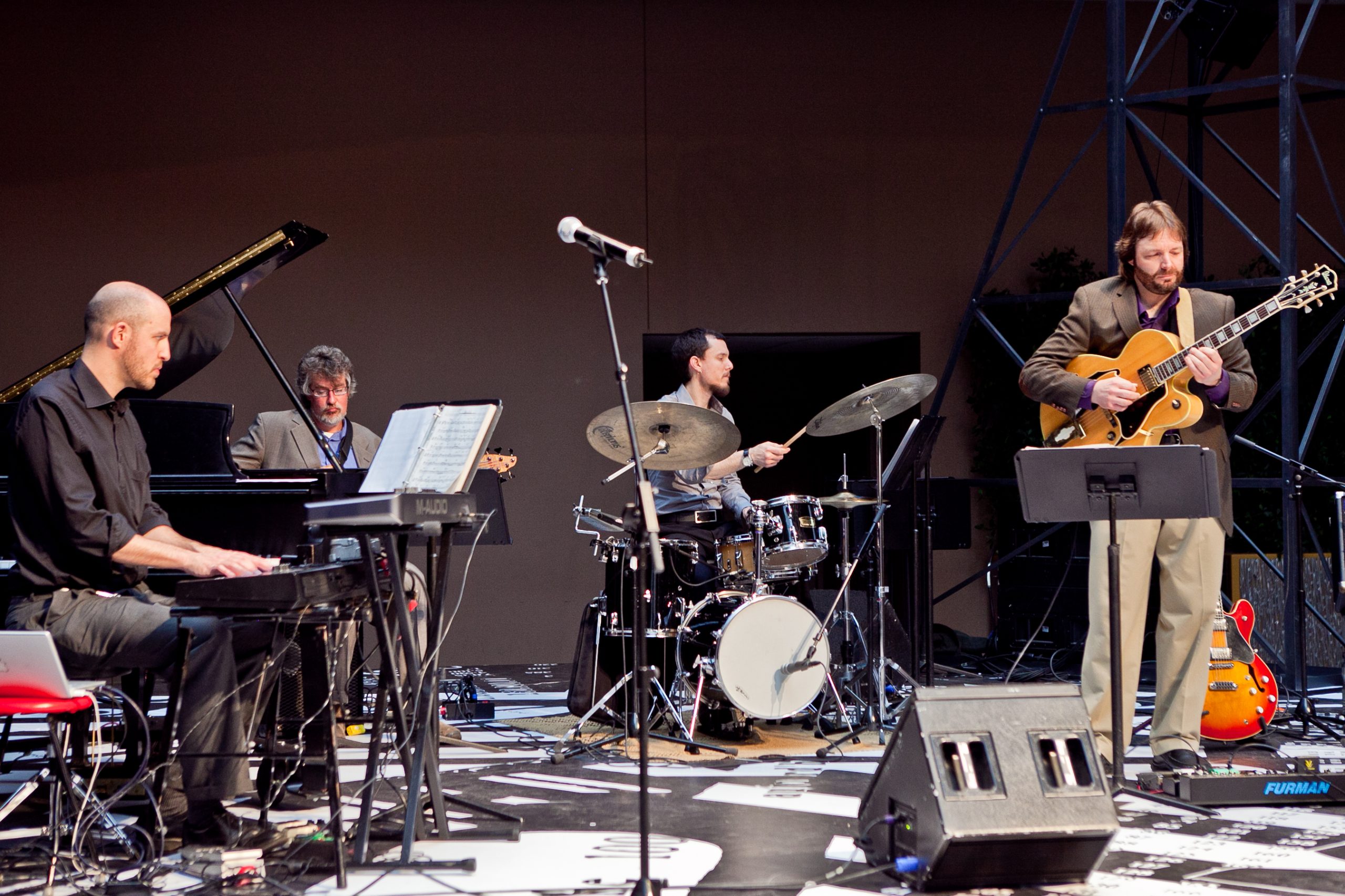 The genesis of DJQ began while studying at at Berklee College of Music in Boston in the early 1980's. At that time I gave regular recitals comprised of material with which I was experimenting and composing. Having been heavily influenced when I grew up by what is now niched as "Classic Rock" (at the time I only knew it as Rock), I loved the Beatles, Stones, The Who, Hendrix, Zeppelin, Traffic, CSN&Y, Chicago and other groups of that ilk and vibe. While at Berklee I grew a new passion and love for the music of Larry Coryell, Wes Montgomery, John Coltrane, Miles Davis, Bill Evans, Jim Hall, Pat Martino, Lenny Breau, Pat Metheny, John Scofield, Duke Ellington, Thelonious Monk, The Brecker Brothers, et al, as well as beginning to open up to the influence of Classical Music. Influenced by these fresh musical creators, I was completely inspired to express myself in contexts formerly unknown and unexplored by me. I was moved to play and compose a "fusion" of my newly derived aesthetic understandings, feelings and creative drive!
While at New England Conservatory, I continued on my love affair with Jazz and its adventure as a Jazz Composition major but new musical streams began to influence my river of creation. The music of Bach, Beethoven, Stravinsky, Ives, Ravel and Debussy had a huge influence on me and I wrote music for woodwind quartet, string trio, a suite for violin and marimba, solo pieces for piano, cello and other combinations of orchestral instruments. My whole concept of writing and playing music was to never be the same and this came to fruition in the tunes and pieces I was writing and offering while at NEC.
These formative years inspired the music I was to create with DJQ. I still enjoy performing some of the tunes with DJQ which I composed from that early time period during my tenure at Berklee and NEC.
The group has transformed many times over the years. Thank you: Suzanna Sifter (keys), Jim Whitney (bass), John Mettam (drums), Tony Deangelis (drums), Jeff Knoettner (keys), Scott Robinson (drums), John Stenger (keys) and Dan Monaghan (drums), Doug Hirlinger (drums), Francois Zayas (drums). These individuals granted me their friendship and helped to bring to life my music imbuing it with creativity, fresh ideas and most importantly fun! A very special and sincere thanks to Philadelphia bass veteran, Paul Gehman, with whom I played for 19 years. Paul, who passed on in 2017, was always a team player and truly understood the heart of my music (a valuable and rare quality to have in an ensemble member!), often offering creative input and musical direction far beyond the usual expectations and responsibilities of a band member. He will be missed.
Online Press:
David Joel: Spiral Sky album review @ All About Jazz
The David Joel Quartet – "Spiral Sky" New Jazz CD Review – by Brad Walseth
Discography
Spiral Sky (Album)
The Dance of Life
(David Joel Quartet)
Eastern Truth
(David Joel Quartet)
Western Lies
(David Joel Quartet)
As It May End
(David Joel Quartet)
The Star Spangled Gospel
(David Joel Quartet)
Spiral Sky
(David Joel Quartet)
Little Bear Prelude
(David Joel Quartet)
Little Bear
(David Joel Quartet)
Other Side of the Sun
(David Joel Quartet)
Spiral Sky Accolades:
"Sometimes what's missed in electric jazz fusion is a slowly steeped fire. This has it."
~ Cheryl K. Symister-Masterson – WXBC Annandale-on-Hudson, NY
"David Joel is a talented guitarist and he leads his quartet though a very good set of contemporary jazz. The songs are reminiscent of Weather Report with the addition of guitar. Occasionally Joel cuts loose and shows off his considerable chops. RIYL: Weather Report (3 stars)."
~ Les French – WMEB-Orono, ME
"Exciting progressive electric jazz which is sure to attract younger listeners!"
~ Peter Kuller – Radio Adelaide – Australia
"I gave another listen and again enjoyed your talents as a player and composer. It sounds like your imagination and spirit are in excellent shape and that you are pursuing your own special voice."
~ Jon Damian – International guitarist, arranger, published author, educator, Professor – Berklee College of Music
"What I like about this cd is the diversity of moods and colors as you go from tune to tune. There's a sense of unique and honest expression throughout."
~ Ken Pullig – Chairman, Jazz Composition Department, Berklee College of Music
"This is the music of a talented guitarist experimenting in the influences that he has been exposed to. The other members of the band who make up the quartet are along for the ride and provide support on the road to discovery. If you like solid guitar playing, a powerful back up band and a fusion style, then check out Spiral Sky."
~ Paul J, Youngman, jazzreview.com
"David Joel and company paint landscapes of sound, starry meditative explorations and turn the listener to traveler, inviting them to let the quartet be a guide to musical challenges and unique structures."
~ Greg Trout, magnaphonemagazine.com